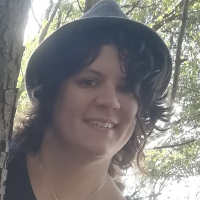 Kathryn Rossati
Fantasy, Teen & Young Adult, Children's, Poetry
I'm an autistic author of middle-grade and YA fiction, with fantasy being my speciality. I'm always working on something new.

My Half-Wizard Thordric trilogy and The Door Between Worlds are currently published under the pseudonym Kathryn Wells, while all my other books, including my latest upcoming young adult steampunk-esque book, Nekromancer's Cage, will be published under my own name.
Video
Publication Day Q&A - The Origin Stone by Kathryn Rossati
I can remember the frustration of not being able to talk. I knew what I wanted to say, but I could not get the words out, so I would just scream.
Temple Grandin
In ancient times cats were worshipped as gods; they have not forgotten this.
Terry Pratchett
Most books on witchcraft will tell you that witches work naked. This is because most books on witchcraft were written by men.
Neil Gaiman
Cats will amusingly tolerate humans only until someone comes up with a tin opener that can be operated with a paw.
Terry Pratchett
Kiss a lover
Dance a measure
Find your name
And buried treasure.

Face your life
Its pain
Its pleasure
Leave no path untaken.
Neil Gaiman